Greek ION Chocolates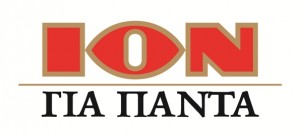 For over 70 years the name ION has become the generic name for chocolate in Greece due to the company's adhesion to quality, innovation and the special taste of its products.
ION ChocoFretaHazlenut
ION ChocoFreta
ION S.A., especially in the last 40 years where it remains the leader of the Greek chocolate market, has introduced a number of innovations in different fields such as new products, systems and processes, communication and public relations and contributions to the local community. The company was the first to introduce in the Greek market a milk chocolate with almonds which has become the most popular chocolate bar in Greece. 'ION Amigdalou' remains the leading chocolate brand for over four decades. (photo ION amygdalou).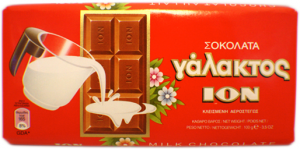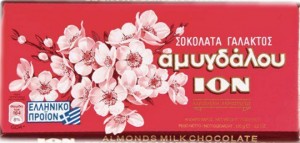 ION Milk Chocolate
ION Almond Milk Chocolate
Innovation, however, does not end in the products or their promotion. During the 60s and 70s ION was one of the first food producers in Greece to use, in considerable scale, advertising – first printed in magazines and newspapers and later on, with the expansion of television, TV commercials (a selection of advertising material can be found at the ION Gallery section).
"Chocolate… A source of vitamins and valuable energy!"
That is how London University Professor Ian MacDonald characterized chocolate in his speech at the Greek Union of Chocolate Industries.
He added that chocolate also contains a variety of minerals that are essential to good nutrition. These include calcium, phosphorous, magnesium, iron, zinc and copper.
He also said that clinical studies have shown that prolonged consumption of cocoa butter and/or chocolate has a neutral effect on blood lipids.
New research into flavonoids, which are found in chocolate, has shown that they can be very beneficial for our heart and can reduce the risk of cancer. In fact, the flavonoids in chocolate are actually more effective antioxidants than those in tea.
Comparing the chemical anti-cancer activity in beverages known to contain antioxidants, they have found that cocoa has nearly twice the antioxidants of red wine.
The fat in chocolate, from cocoa butter, is comprised almost equally of oleic acid, a monounsaturated fat, which can be beneficial to health.
To sum up Dr Ian MacDonald pointed out the fact that chocolate must be consumed wisely and that it is important to follow a balanced diet, which includes exercise.